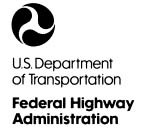 The Federal Highway Administration and New Mexico Department of Transportation announce a public information meeting
US 550 Corridor Study
NM 313 to NM 528
CN A301232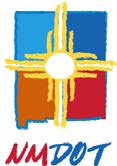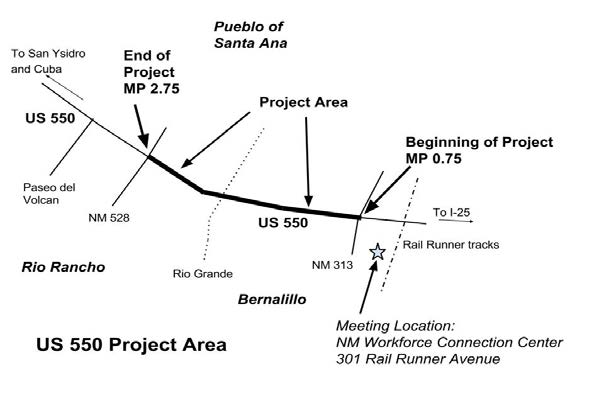 Date:
Thursday,
December 17, 2015
Time:
6:30 pm open house with
presentation at 7:00 pm
Location:
New Mexico Workforce
Connection Center
301 Rail Runner Avenue
Bernalillo, New Mexico
View Map: https://goo.gl/maps/vRYqke8hsSQ2
Public Information Meeting Purpose: To present the initial findings and to receive comments from the public. NMDOT project team representatives will be present to discuss the study process. The public is encouraged to ask questions and provide comments. Comments will also be received on bicycle, pedestrian, and equestrian issues as well as natural resources and cultural resources.
Meeting Overview and Agenda: Project team members will be sharing corridor study information. The New Mexico Department of Transportation (NMDOT) is conducting a corridor study to identify short-term and long-term transportation improvements for US 550 between NM 313 (Milepost 0.75 [MP 0.75]) and NM 528 (MP 2.75). The US 550 corridor carries a significant volume of daily traffic, especially during the morning and afternoon peak periods, resulting in re-occurring traffic congestion. The roadway serves local, regional, and statewide transportation functions. As part of the detailed evaluation of alternatives (Phase 1-B), future options for roadway design, traffic management, access management, drainage improvements, bus travel, bicycle facilities, and pedestrian facilities are being studied. The agenda consists of an open house, presentation, and question and answer session. The US 550 alternatives can be viewed on-line at www.keepmoving550.com.
ADA: To request Americans with Disabilities Act (ADA)-related accommodations for the meeting, contact Eric Johnson at (505) 898-8848 at least two days before the meeting.
Comments: Written comments will be accepted at the public information meeting, or they may be mailed or faxed to Eric Johnson, Marron and Associates, 7511 Fourth Street NW, Albuquerque, NM 87107, phone (505) 898-8848, e-mail eric@marroninc.com, or fax (505) 897-7847.