Public Information Meeting
Meeting Date:
Wednesday, October 4th, 2017
Meeting Time:
5:00 PM to 7:00 PM – Presentation at 5:30 PM
Meeting Location:
Bernalillo Town Hall Council Chambers, Bernalillo, NM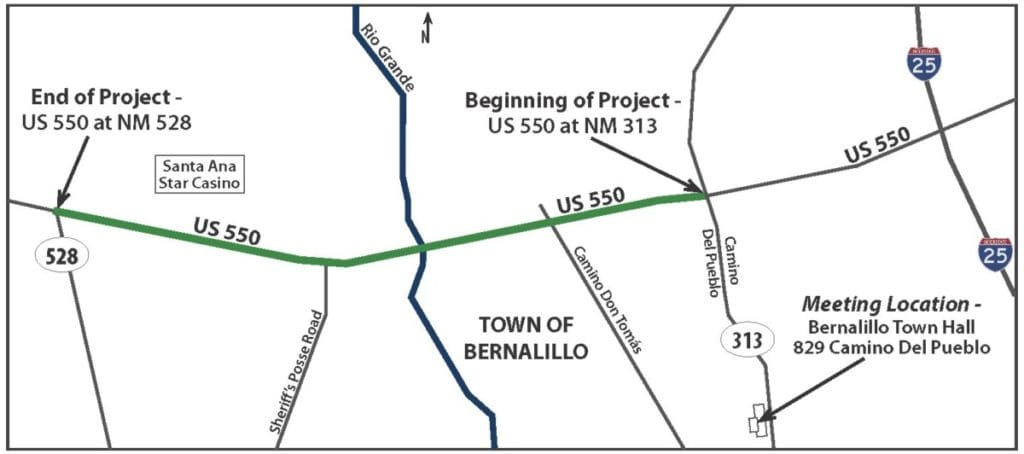 The purpose of the meeting is to provide an update on the design and the reconstruction of US 550. Planned improvements will:
widen US 550 to a 6-lane roadway with on-street bicycle lanes and continuous sidewalks,
construct another bridge to accommodate westbound traffic across the river,
reconstruct the intersection at US 550 and NM 528, and
update and install a storm drain system in some areas of the project.
The meeting will present updates on the current construction project and on the design which has been carried forward from the alternative selected during the study phase. Based on public input, the preferred alternative has been refined to improve access to businesses along US 550.
If you have questions about the meeting and/or the reconstruction of US 550, please contact:
Chris Baca, P.E., Parametrix, (505) 821-4700
Joseph Casares, P.E., NMDOT, (505) 798-6786